Late-May 2018…
I had booked some time off and wanted to get out of the city and get somewhere remote. I had already decided to go to Scotland but hadn't picked a route. It had been over a year and a half since I had done a multi-day hike with camping gear, and I didn't feel fully prepared for total remoteness, so I decided against going to the far north of Scotland. The Southern Upland Way in the south of Scotland was an appealing option, but the hills are fairly modest and I wouldn't have had time to complete such a long coast-to-coast walk.
I settled on the Southwest Highlands because they are so easy to get to – not far from Glasgow, and with a convenient end point in the Highland town of Fort William. Glasgow to Fort William is the basic idea behind The West Highland Way, but I'd done most of that before and I knew that it's mostly low valley paths (old military roads etc). The West Highland Way is also very busy and has a commercial feel, so it often feels more like being in a city park than remote countryside. But then I do appreciate all those pubs and shops…
I discovered a guide from Cicerone: Not The West Highland Way. It followed the official West Highland Way but gives alternative routes which can be taken along the way, to climb Munros or get into more remote areas. This seemed like a good basis for a walk that would ease me back into long distance hiking, but also provide the possibility for some real adventure!
After picking up this guide and some bits of equipment I was missing, I set off on the train to Glasgow, and then the local train to Milngavie, a Glasgow suburb. Milngavie (pronounced completely differently to how it is written) is the start of the West Highland Way, so the locals presumably saw me and thought "there's yet another West Highland Way hiker". Little did they know that I was in fact walking…
Not The West Highland Way
Day 1: Milngavie – Earl's Seat
Thursday 24th May 2018
Distance: 10 miles [view on map]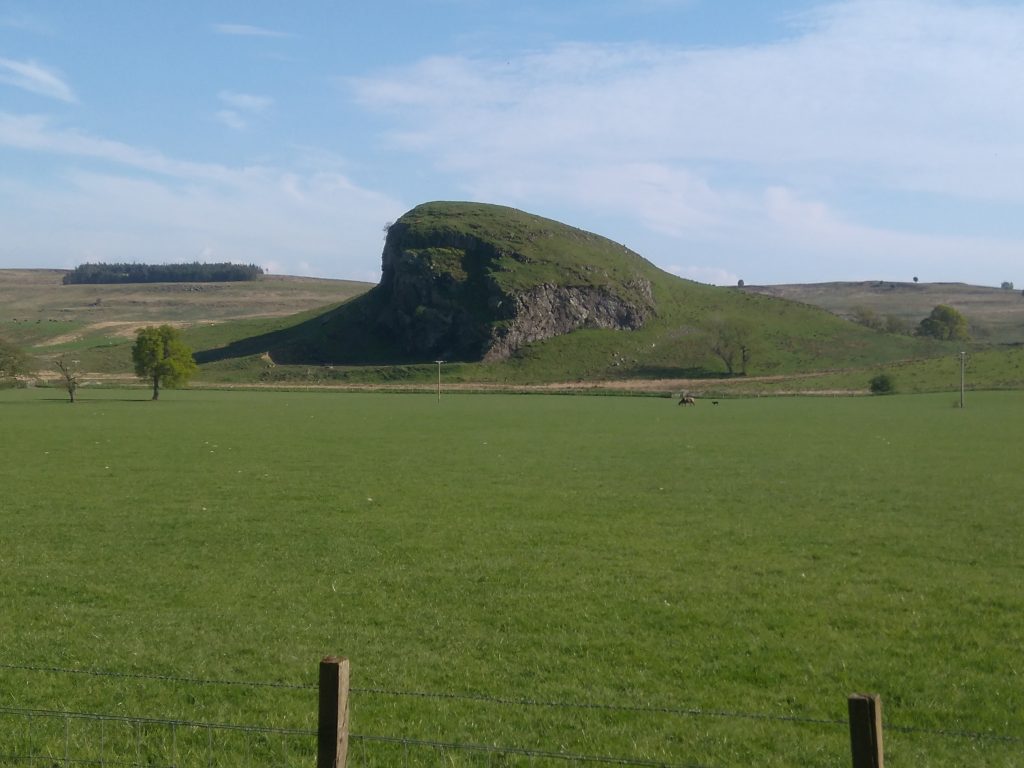 I set off around 3:30pm, following the West Highland Way through Mugdock Country Park, then forked off towards the Campsie Fells via Strathblane. At Strathblane, I crossed my route from my JOGLE walk almost two years prior. I actually had a flashback of walking past the pub in Strathblane about half an hour before I got there, and this happened to be the exact place that the route intersected with the JOGLE walk of 2016. I remember thinking as I walked on a flat concrete cycle path in 2016 that it was a shame I couldn't walk over the Campsie Fells to my left, which that month had looked more enticing than much of the cloud-obscured Highlands. Now two years later I had the opportunity to see them up close!
The Campsie Fells seem to be largely ignored by hikers, as they are not part of the Highlands. So many pass them when walking the West Highland Way, but the aim is to reach the Highlands as quickly as possible so most just walk on by. I met a local cyclist just before heading up, he told me he had lived in the area for 10 years but never been up!

A tough climb along a farmers track got tougher as the track disappeared. Crossing peat bog with barely any path wasn't too bad given the dry days before. The views were fantastic – over Glasgow, and the towns towards the East Coast. I had a feeling the East Coast was not much beyond my sight, but I couldn't spot it. Arriving at the summit of Earl's Seat just after 8pm, the views expanded to include Loch Lomond and the Highlands. The sun set over the Highlands. I pitched my tent on a grassy spot just below the summit. I was really excited to spend a day in such remote hills in such good weather! OK, they are not really that remote due to the proximity of Glasgow, but they certainly had a feeling of remoteness, as I hope is visible from the photos.
Even if the views had not been there, the Campsie Fells were fantastic – such a range of colours and contrasts in the grasses.